The Spinoza Problem is a novel that blends historical fiction, with brilliant insight into God, religion, and human nature. There's nothing we like better than finding meaning in a total page-turner of a book.
The Spinoza Problem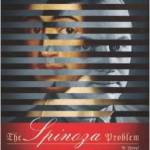 This book is an intriguing telling of seventeenth-century philosopher and ex-communicated Jew, Baruch Spinoza. The story goes back and forth in time between Spinoza and Nazi Alfred Rosenberg. Rosenberg is obsessed with Houston Chamberlain, a racist political philosopher of the early twentieth century. Chamberlain's admiration for the Jewish Bento (Baruch) Spinoza becomes a problem for Rosenberg that bothers him throughout his twisted life. Author Irvin Yalom is a psychiatrist. He goes deep into the psyche of Spinoza and Rosenberg, and we're fascinated by what we learn. It's a story about good and evil. Even though The Spinoza Problem is disguised as fiction, it reads more like a guide to understandings the mysteries of the Bible.
To review and discuss the book and all of it's tantalizing content, we're hosting a book club. A different kind of book club. A better book club actually. We're hanging out right here, and the after-party is at "Genius."
What's Genius?
This book club goes below the surface of usual bookish chit-chat. Congratualtions,  you're in a book club, on your own time, in a new and different way. No spinach dip – sadly that's true. Only smart people who love to share and discuss. You'll gain insight about parts of the book that you didn't notice before. But you should have, because they are so darn INTERESTING!
How Does it Work?
Read the excerpt here. Place your cursor on the highlighted text  – means someone has something to say about it. Now, click the gray highlighting and enjoy the share. When you're ready to add your comments click the upper right corner (Powered by Genius) or click the "gem" icon on the bottom of the excerpt. You're now clubbing with us on The Spinoza Problem Genius page ▼
---