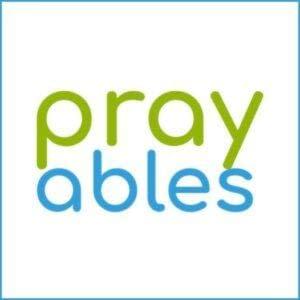 Prayables is a business with a spiritual purpose.
We are in the business of prayer. So pray we do, and we help you too. We write God-focused prayers, blessings, quotes, and stories, for people of faith to enjoy and share. We help you pray. We design and format these Godly nuggets for your use, at no charge. Nobody has to pay to pray. We only want you to pray it forward. We figured out a better way to finance our spiritual business, by keeping costs low and working with passionate partners who see Prayables as their way to serve God and humankind.
We create ways to pray with more meaning, more often, and most effectively.
We are totally committed to finding ingenious ways to bring more prayer to more people. We use Facebook, Pinterest, Instagram, and Twitter. There's PrayerEngine, an open text box of opportunity for you to give and get prayers. You'll find us in your email, on your smartphone, and everywhere online. Some people need a little noodge. A reminder. An inspiration. That's when we dropkick a 'lil something for the soul, and it lands where and when you need it most.
Prayables is for every numskull who thinks everyone has a right to their beliefs.
We started with the whacky idea that every single one of God's children has the right to believe what they choose. Prayables is a safe and sacred place where tolerance is a virtue. It's a spiritually liberal community. And we're polite about it. No shouting matches. No arm twisting. No trying to win'em over to your side. Prayables honors all faith traditions. Christians. Jews. Muslims. Nones of the Above. Even an atheist would not be booed off our pages. Though most likely, they would wander off disgusted with our absolute love and devotion to God.
No, your truth is not truer than mine.
We don't buy the idea that there is only one right way to believe. Sorry about that all you bible-thumping fanatics. Though we do like a good bible-thump. We don't use the text of the Holy Word to wage war, prove a point, and we don't get obnoxious about it. The consensus in Prayables territory is that the Bible is our story. Those stories teach us about ethical behavior, living life with a strong moral code, working for justice. To us, the Bible is an endless source of guidance and inspiration to be studied, quoted, and shared for the richness of the message.
Scrubbing the ugly side of religion out of prayer
We see a lot of hate and violence wrapped in the dark cloak of religion. We shake our heads in disbelief that there are people living, dying, and killing for a set of ideologies that don't allow for any other view except their own. We're not fans of extreme religion. We know most religion isn't like that. The majority of religious people are not fanatics. In fact, we love warm and fuzzy religion that connects us to a community of like-minded people who practice feel-good spirituality. So as crazy as this sounds, we took the religion out of prayer. We don't give God any religiously specific name. We think G-O-D is good enough. Though sometimes we get cute with L-O-R-D, the D-I-V-I-N-E, H-O-L-Y O-N-E, you get the idea.
Back in the day, we saw the light.
Prayables has been around since 2009. In Internet years that makes us ancient. People had Blackberries back then, and many of our subscribers used aol.com for email. We knew that very soon, a smartphone would be in the hands of nearly everyone on the planet. Life as we knew it would change. Moms were already crashing the gates of Facebook, and the stampede had begun. Technology was going berserk. Every day there was a new platform, app, game, or website offering stuff to do, see, read, and hear.
Admit it or not. Everybody prays (at least a little) each day.
We thought, "What is the one thing nearly everyone does every day in one way, shape, or form?" Pray. People are praying every day. Let's make it easier for them to get a little bit of spiritual inspiration where they hang out – online. We also saw something no one else did: The unity of prayer across religious labels. Good people all pray for the same things: health, safety, relationships, peace, and prosperity. They mourn losses with prayer; they celebrate joy with it too. They curse God. They thank God. Regardless of the language used, prayer unites.
What makes Prayables different from the others.
Sure, folks could post a prayer here or there on their timelines. They could tweet 100-odd characters and say, "Pray for me…" Muslims could find an app for prayer times. Christians could go to any number of church websites and find holy-roller preacher types offering up sermons, scripture, and 'ole time religion. Jews could download traditional Hebrew prayers. Even the spiritual types could find their way to a new age guru's website. But there was one niche not filled. The one that caters to the progressive worshipper. One who is spiritually liberal.

We want you to join us.
The Prayables family is filled with smart people like you who have a strong faith in God. We love deeply. We live justly. We anxiously wait for divine inspiration and actively seek it. We are grateful. We don't judge. Think of Prayables as a prayer starter, lighting the fire of spirituality and sending prayers to the heavens like fairy dust. Imagine the prayers we share softly swirling inside you, sinking into your very soul. Be more prayerful. Let us help. Let's pray together.
We are waiting to embrace you. Join over 100K people who pray every day with Prayables. Get the Daily Prayables, our newsletter with prayers, blessings, quotes, bible verse, stories, video, features & more!