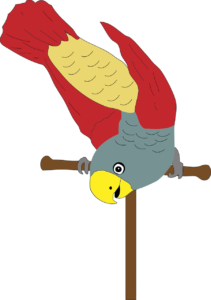 A man goes to the pet shop and buys Dolly the parrot. He brings the bird home and is surprised to hear her talk. the first thing she says is, "Hey there, handsome." Then the parrot says to him, "How about a little kiss." The man is deeply bothered by this kind of talk. He's a good Christian. 
He goes back to the pet store the following day and says to the pet shop owner. "Sir, I have a problem with the parrot you sold me. It's clear she is flirting with me." 
The pet shop owner apologizes and tells the devout man about two male parrots who need a good home. "They are very religious parrots. They read the Bible all day long. Why don't you take the two God-fearing parrots home so they can be a good influence on your Dolly."
The man takes home the two parrots, and sure enough, they commence to pray, reading two little bibles and even singing hymns. 
Dolly is unfazed. She continues to make inappropriate comments and suggestions of a sexual nature. 
Not knowing what else to do, the frustrated man puts Dolly in the same cage with the two praying parrots. 
After he closes the cage door, one of the male parrots says to the other, "Finally, our prayers have been answered!"