Woo-hoo! You've got the app downloaded on your smart phone.
Now what?
You can post a prayer, express gratitude, share a praise report, daily inspiration, and so much more. Type it out or talk it out – choice is yours.
You're in a sacred community where your spiritual self is appreciated. Make new prayer friends and invite your own to join. Find out all the glorious things you can do to improve your prayer life and help others with theirs.  Here's how to use the Prayables Pray App.
Post a prayer.

Open the app to the Home screen and tap the round blue button with the + sign
Choose to send to the entire Prayables community or selected members, tap Next in upper right corner
To post a text prayer, use the keyboard to type out your prayer
Tap Send when done
Record an audio prayer.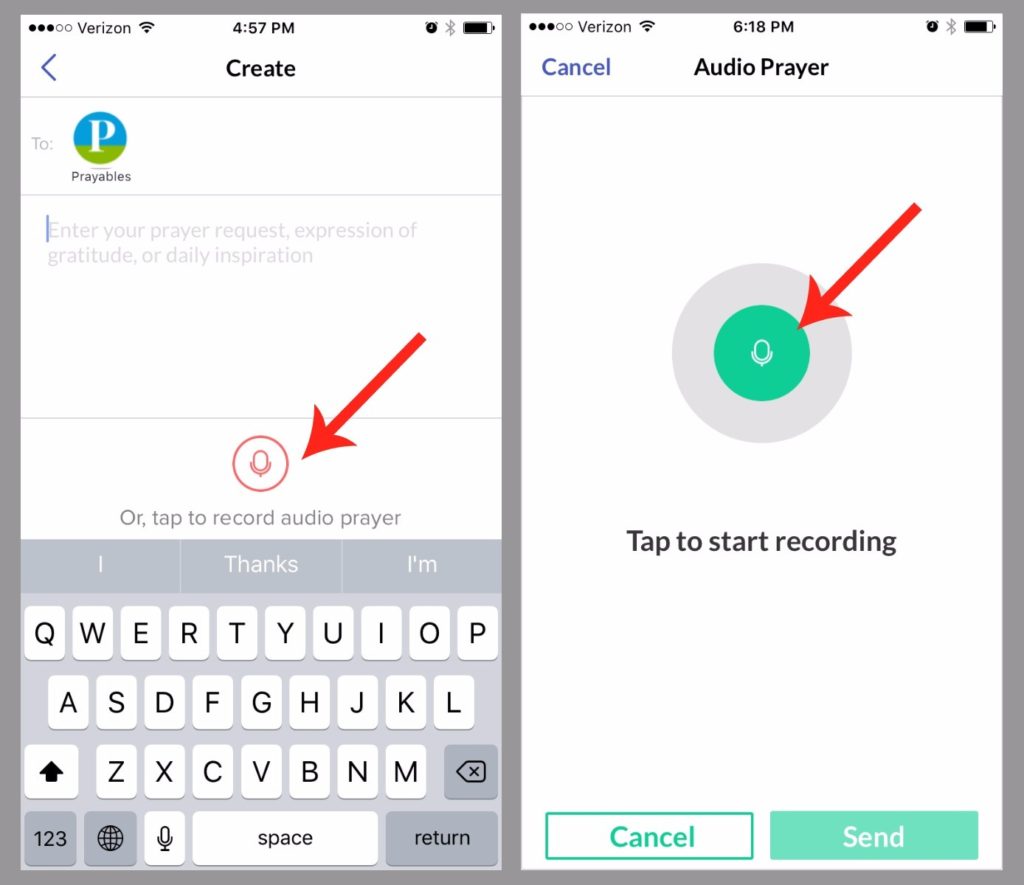 Follow steps 1 & 2 from above and this time tap the red mic icon and follow prompts
Tap to start recording  you have 60 seconds of recording time, so be prepared!
Tap to stop recording 
Tap to listen
Choose Send if you're satisfied or Cancel if you want a do-over
Pray for others.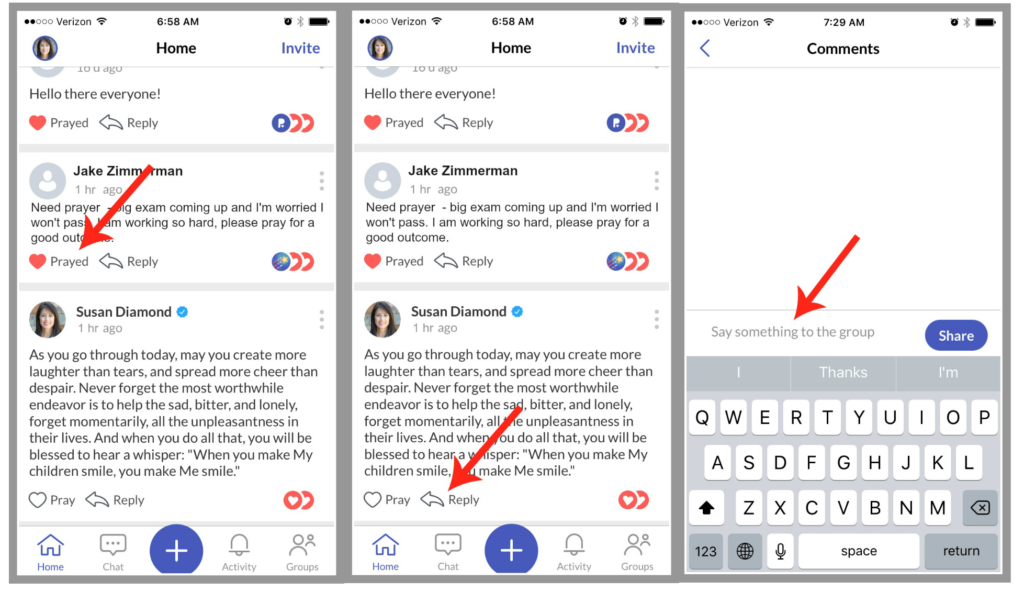 Tap the heart Prayed to let someone know you prayed for them
Tap on the arrow Reply to share words of encouragement
Use keyboard to type your message
Share with the community by tapping the blue oval Share button
Send a private message.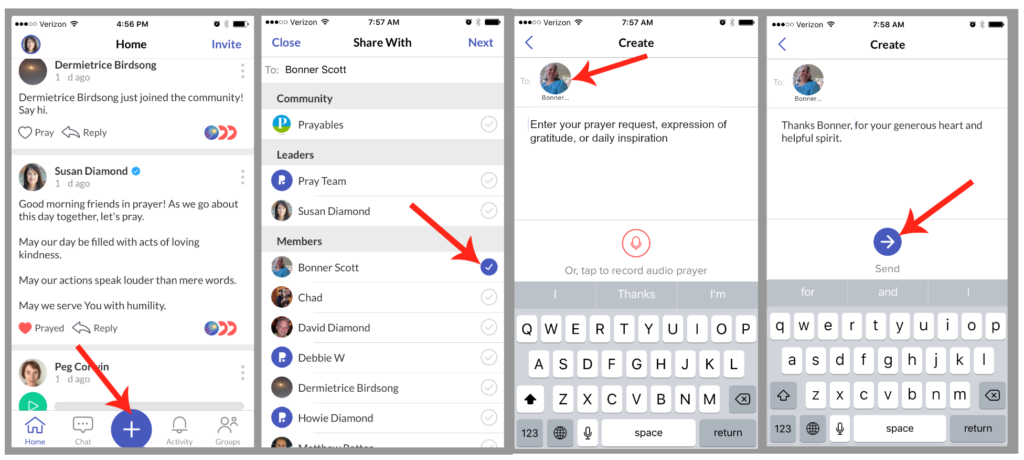 Sending a private message is just like posting a prayer or audio prayer to the community. But this time you control who gets it.
Open the app to the Home screen and tap the round blue button with the + sign
Choose the member(s) send to and tap Next in upper right corner
You'll notice the profile pics of your recipient(s) in the To: section
Use the keyboard to type out your prayer
Tap Send when done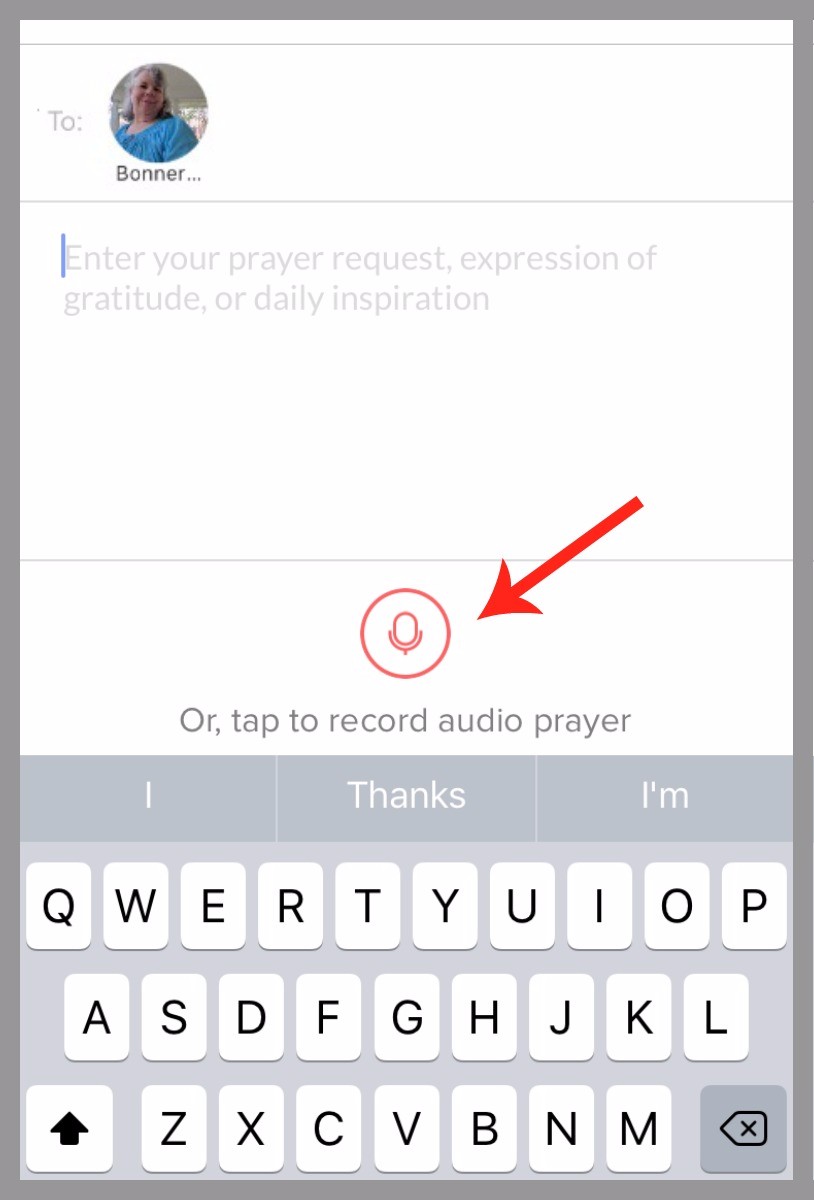 Want to send a private audio prayer message instead of text?
Tap the red mic icon and follow prompts
Tap to start a max of 60 second recording   – Tap to stop recording   – Tap to listen
Choose Send or Cancel to start over
Thank and be thanked.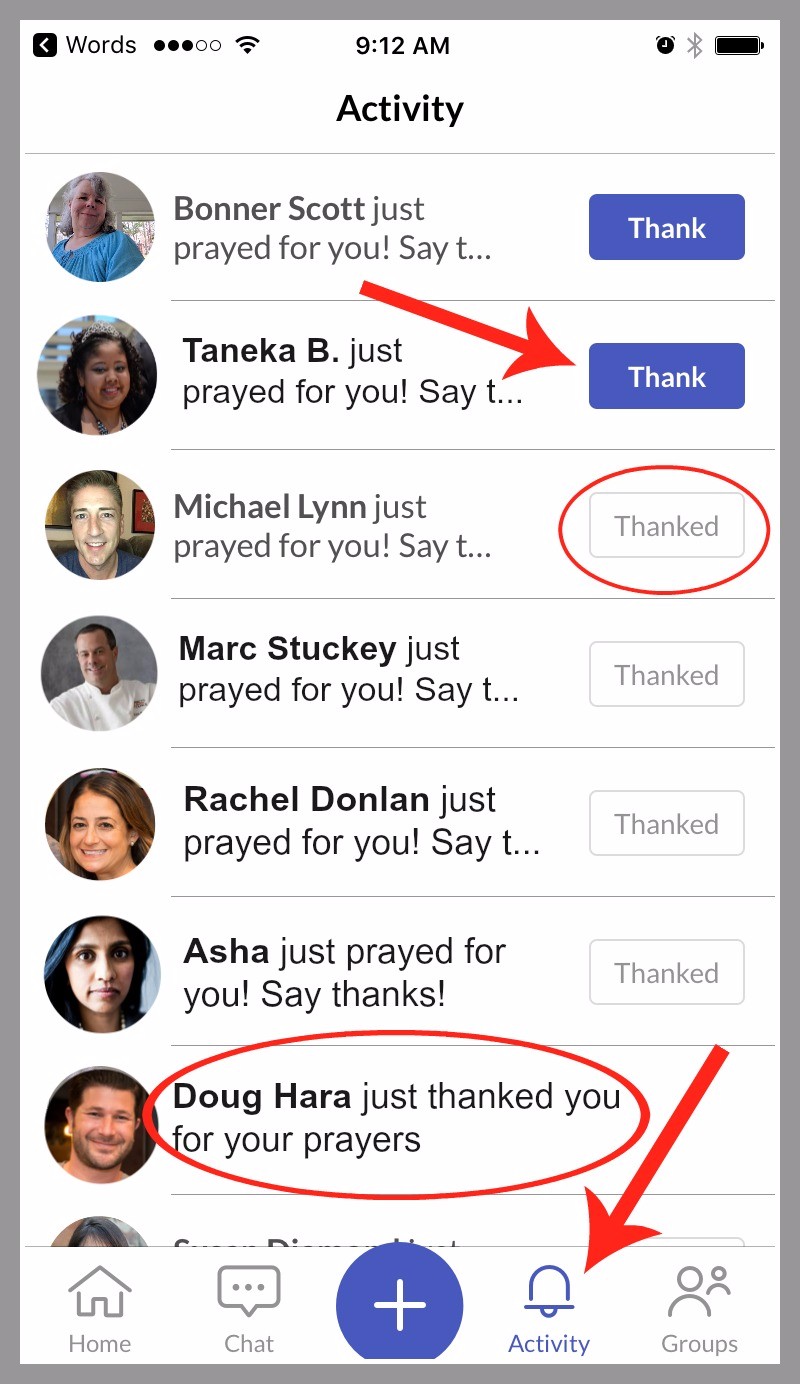 Find and open the Activity option from the bottom of your screen
Tap the blue Thank button to send your thanks
See who's been thanked
See who thanked you
Prayer journal.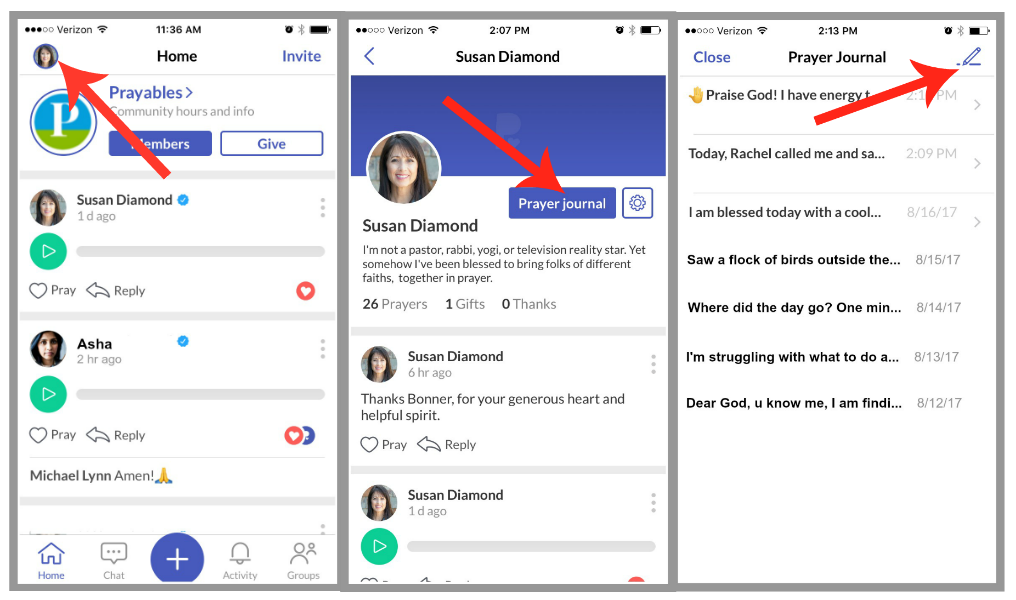 Find your picture icon, upper left corner of Home page, tap to open. Tap the blue Prayer journal button to open. Use the pen icon to the right of Prayer Journal to begin writing.
What to do with settings.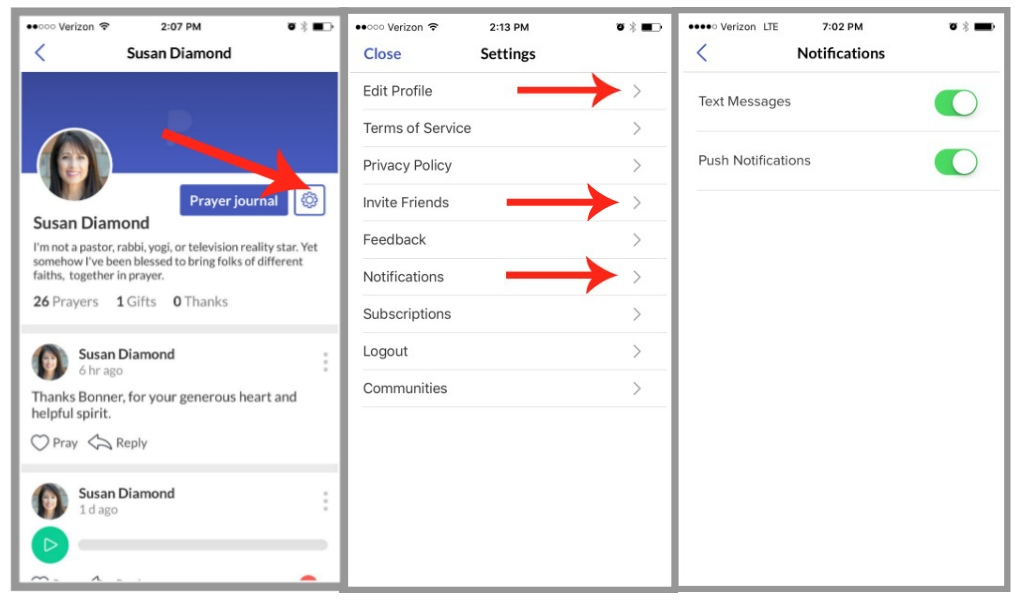 Your settings are found by tapping on your picture icon from the upper left corner of Home page
Look for the small gear icon and tap
Tap on the arrows to see what's behind them
Edit profile is where you add your picture, say a few words about yourself, and let folks get to know you
Invite Friends is another meaningful way to make a difference in someone's prayer life – be a prayer evangelist 🙂
It's important to have your notifications turned on to green, we won't bother you with a ton of messages but you'll get the most from the app when all systems are go!
Support prayer.

Honor your prayers with a donation to Prayables – and support prayer everywhere!
Tap the Give button at the top of your Home screen
You'll see a menu of giving levels including Other gift amount
Make your selection
Tap green button Give Now
Tap on either Weekly or One Time
There's also some fine print with refund policy and info about the $1.99 fee that's shared from your donation to our deserving partner, Pray.com
Tap blue bar Next
Provide your credit or debit card information by using the keypad or the camera icon to the right of the account number
Your info will never be shared – the app is a secure platform
Invite friends.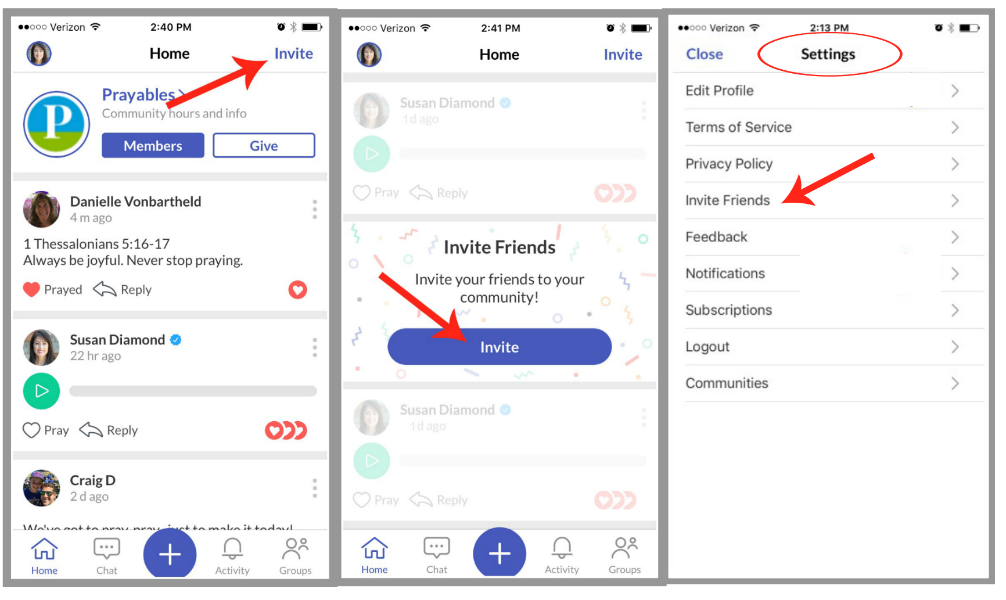 Here's a few ways to invite friends to join the community
1. From your Home screen tap on Invite in the upper right corner
2. Find and tap Invite from a message in your prayer stream
3. From the settings screen, find Invite Friends and tap on the ">" character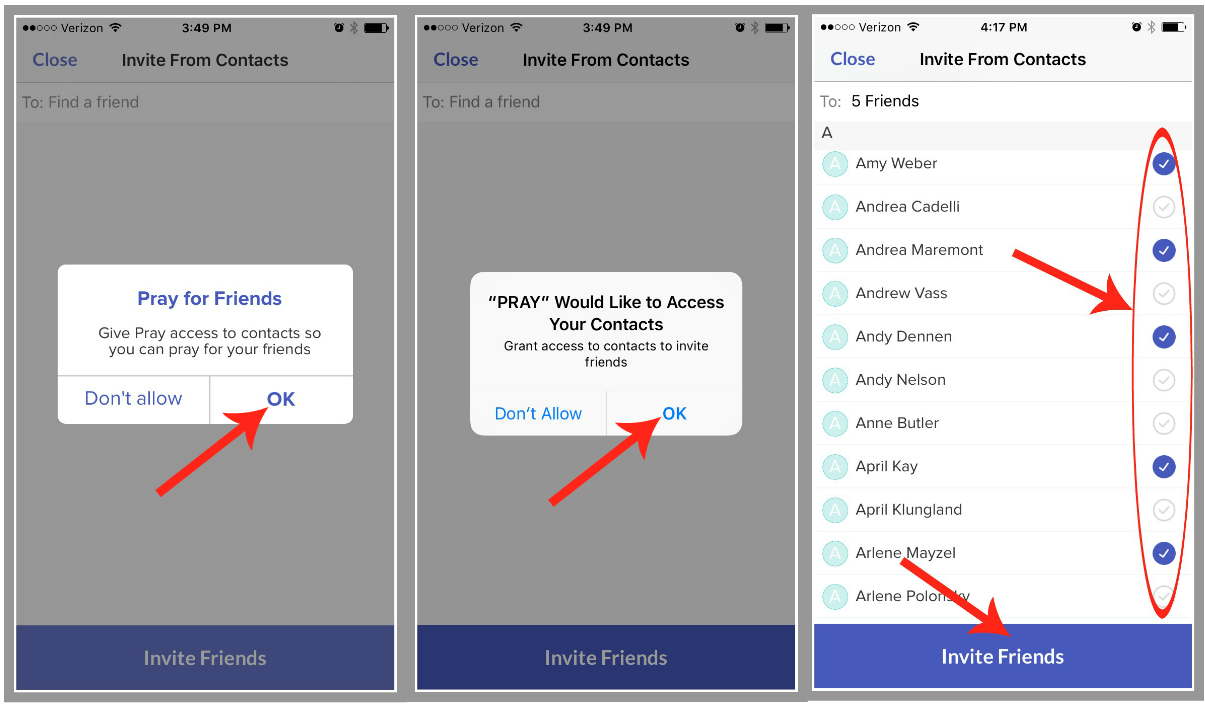 You'll get a request pop-up asking permission to access your contacts – tap OK
A confirmation pop-up comes up next asking permission to invite friends – tap OK
Scroll through your contacts and tap to check friends you'd like to invite
Complete the invite with a tap on the bottom blue bar Invite Friends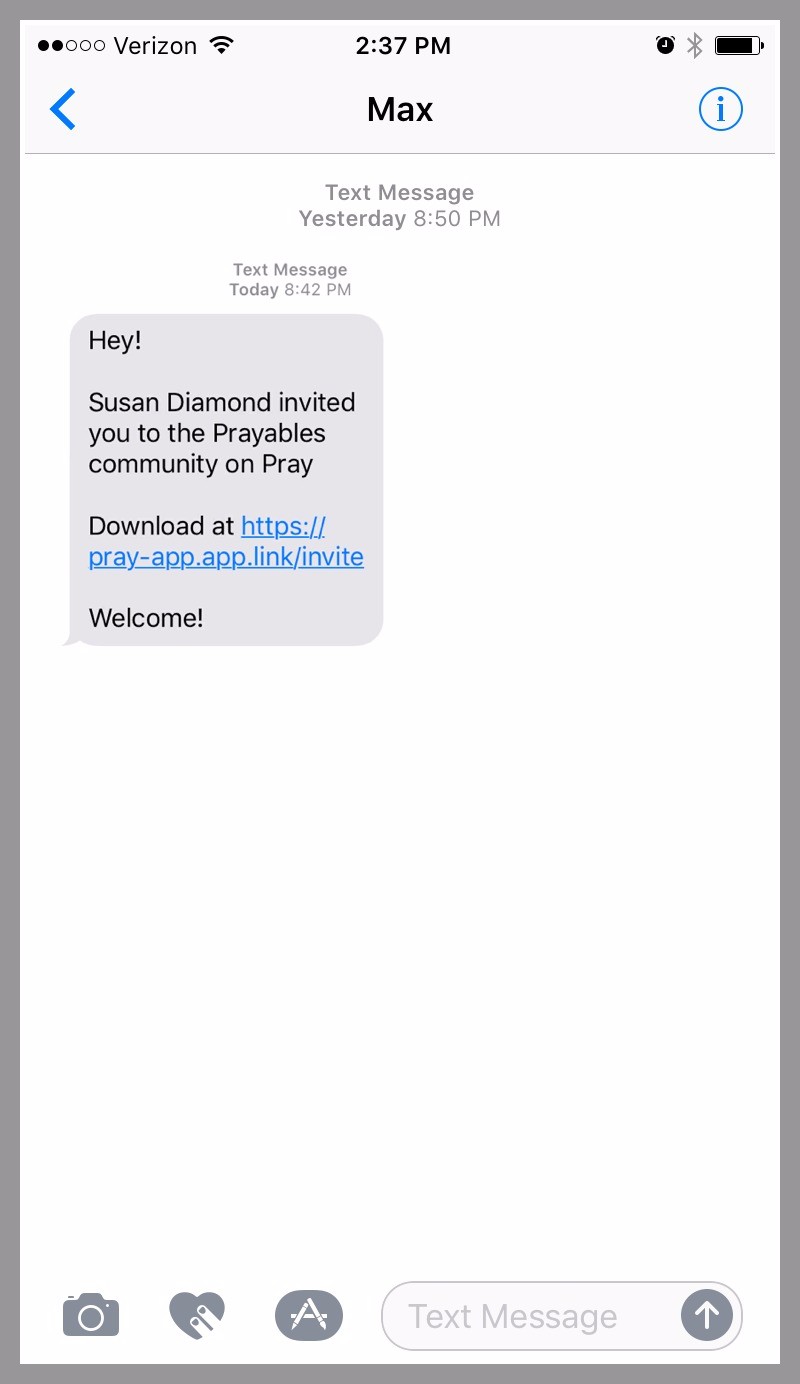 Your friends will get a text message
Wanna be extra thoughtful? Follow up with a personal message and include a link to Prayables Pray App Set-Up
Speaking of reaching out, another way to invite friends is by sharing this link: *pray.com/prayables in a text message, email, or on social media
*link can only be opened from a smartphone
Coming soon.
We're making improvements every day, and we'll let you know when a feature is ready to explore