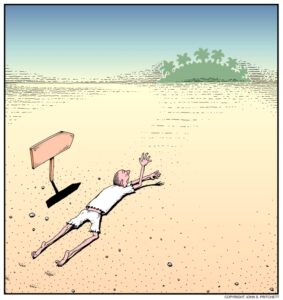 The Coca-cola company decides to start selling Coke in Israel. They sent Harvey, an experienced executive who had successfully launched the popular product in other countries across the globe. 
Harvey follows his tried and true plan. He develops a marketing campaign for television. He creates advertising for newspapers and magazines. He puts ads on all the billboards in Israel. 
Nothing. Nada. Zip. Israelis are not buying Coke.
Frustrated, Harvey calls Coca-Cola's corporate office and talks to his boss.
"I don't understand it. When I got sent to Israel to increase our Coca-Cola sales. I was confident that I would be able to succeed even though I couldn't speak Hebrew."
"So what did you do to get around the language problem?" his boss asks.
He describes the storyboard he used for the advertising.
"There's no text. I was able to strongly put across our message using just three high-definition images. These images, when viewed sequentially, clearly told the Coca-Cola story."
"So what were these three images?" His boss asks.
"The left-hand picture — the first image shows a man lying in the hot desert sand, totally exhausted and close to fainting. The middle picture — the second image, shows the man drinking Coca-Cola. And the right-hand picture — the third image, shows the man totally refreshed and happy."
"Harvey, you missed a key point." The boss responds.
"Israelis read Hebrew from right to left."