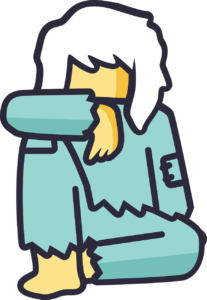 Jack, a well-dressed athletic-looking fellow, is approached by a homeless man. 
– Can you help me out?
"If I give you money, will you use it for alcohol?"
 – No, I don't drink.
"What about drugs?"
– I don't use drugs.
Jack asks a third question.
"Do you play golf?"
– Golf?!! I don't play golf,  Does it look like I play golf?!!
"I'll tell you what…" Jack says, "I'll give you money, but you have to do one thing for me. You have to come home with me and meet my wife."
– You want me to go to your home and meet your wife?!! I haven't bathed in weeks, my clothes are torn and filthy, my hair is matted and greasy, and I stink.
"Yes, I want you to come home with me to meet my wife, so she can see what happens to someone who doesn't drink, do drugs, or play golf."