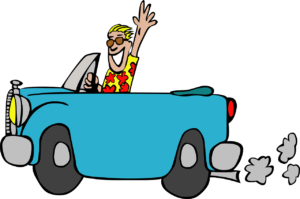 There's this 49-year-old man who takes care of his mother and his cat. His entire adult life, it's Mother and the Cat, 24/7.
He couldn't leave them on their own, so he didn't work, and he had no social life. 
His brother came over one day and said, "You need a vacation. I'll watch Mom and your cat."
He gave him a ticket to Hawaii and an itinerary for a week's stay.
After a very long day of travel, the man arrives on the island. He gets settled in his hotel room, and the first thing he does is call his brother.
"How's it going? Is everyone well?"
His brother replied, "Actually, your cat is dead." 
"You tell me like this, in four words?!! You got right to the point – all right. You could have given me more information. Did the cat get out of the house? Climb on the roof? Fell the two stories…you could have prepared me for this horrific outcome." His voice was shaking with tears. "And tell me, how's Mom?"
"Well," his brother answered, 
"Mom got out of the house. Climbed up to the roof…