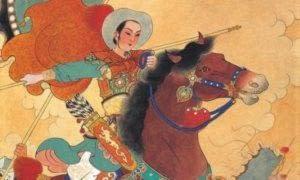 The sound of one sigh after another, as Mulan weaves at the doorway. No sound of her loom and shuttle, only that of a girl in deep reflection. If you ask her what she is thinking or who she is thinking of, she will say,
"There is nothing I think of, no one I am thinking of, other than this: Last night I saw the army notice, the Khan, our country's leader, is calling for an army draft – a dozen volumes of battle listings, each one with my father's name. My father has no grown sons. I have no elder brother. I'm willing to buy a horse and saddle, to go to battle in my father's place."
She buys a fine horse at the east market. She buys a saddle and blanket at the west market. She buys a bridle at the south market. And she buys a long whip at the north market.
She takes leave of her parents at dawn.
She camps beside the Yellow River at dusk. She hears no sound of her parents calling for her, just the rumbling waters of the Yellow River. She leaves the river at dawn ao she can reach the Black Mountains by dusk.
Still, no sound of her parents calling for her. She hears only the cries of barbarian cavalry in the Yan hills.
Ten thousand miles she rides in war, crossing passes and mountains as if on a wing. From the northern air comes the sentry's gong. Cold light shines on her coat of steel. The general is dead after a hundred battles. The warriors return after ten years.
She returns to see the Khan, Son of Heaven, who sits in the Hall of Brilliance. There are rewards for service doled out to the soldiers. Riches and favors in the hundreds and thousands. The Khan asks Mulan what she desires.
"I have no need for prestigious posts. I have no need of gold. I ask to borrow a fleet of your best camels and an entourage to accompany me back to my hometown."
Her parents hearing that their daughter returns, run out to meet her and welcome her back. Her elder sister hearing about her sister's return, adjusts her make-up in the mirror and waits by the doorway. Her younger brother hearing the news sharpens his knife and readies the pigs and lamb to feast upon.
Mulan is home.
"I open my east chamber door and sit on my west chamber bed. I take off my battle cloak, and put on my old-time clothes. I adjust my wispy hair at the window sill. I apply my bisque makeup by the mirror."
She steps outside to wave farewell to her fellow soldiers who accompanied her on the journey. They are all astounded.
One said, "We fought ten years together, yet never knew Mulan is a lady!"
Mulan says good-bye and turns to begin her old life anew.
The male rabbit (buck) bounds here and there, while the female (doe) has narrow eyes. But when the two run side by side, you can not tell doe from the buck.
READ MORE stories like this