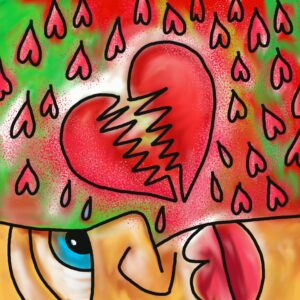 Introduction
This is an excerpt from the book The Hiding Place by Christian author Corrie Ten Boom. She was very much in love with a young man named Karel. They were making future plans and walking together every day. Her brother warned her that the relationship didn't have a chance because his parents wanted somebody for their son of his own upper class. Corrie came from a family of modest means.
Karel went away for a few months, and she wrote him letters, which at first he returned until his replies dwindled to no response at all. She made excuses, 'He must be busy.'
Karel came back to town and with him was his fiancee. Corrie was devastated. She was heartbroken. Here's her story in her own words. 
HEARTBROKEN
How long I lay on my bed sobbing for the one love of my life, I do not know. I was afraid of what father would say. Afraid he would say, "There'll be someone else soon," and that forever afterward, this untruth would lie between us.
"Corrie," he began instead, "Do you know what hurts so very much? It's love. Love is the strongest force in the world, and when it is blocked, that means pain.
There are two things we can do when this happens. We can kill the love so that it stops hurting. But then, of course, part of us dies, too. Or, Corrie, we can ask God to open up another route for that love to travel.
God loves Karel even more than you do, and if you ask Him, He will give you His love for this man, a love nothing can prevent, nothing destroy. Whenever we cannot love in the old human way, God can give us the perfect way."
I did not know that he had put into my hands the secret that would open far darker rooms than this, places where there was not, on a human level, anything to love at all. My task just then was to give up my feeling for Karel without giving up the joy and wonder that had grown with it.
And so, that very hour, I whispered a prayer, "Lord, I give to You the way I feel about Karel, my thoughts about our future, everything! Give me Your way of seeing Karel instead. Help me to love him that way. That much."
Corrie Ten Boom