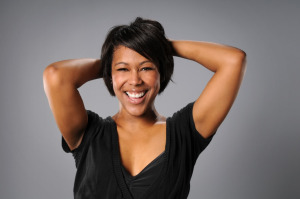 What makes you happy? You're searching for whatever it is that makes you happier, healthier, and better able to put up with all the $h!t life throws at you. Here's what we are 100% positive about when it comes to being happy.
People make you happy, even the rotten ones.
Streisand sang it true. People who need people are the luckiest people in the world. At least they are the happiest people. Friends, family, and social relationships are key factors to happiness. Even conflict with the more challenging people in your life can cause you to be happier in the long run. There's a strong sense of satisfaction when you work out your problems and stay in a difficult yet important relationships.
However, happiness surveys reveal some interesting tidbits about exactly what it is you do to be happy in your relationships with others.
In a way, having having stuff is a way to happiness.
It turns out that the stuff you buy, and the things you do are actually just ways of getting closer to family and friends. If you think what makes you happy is buying a new car, you're wrong. Having reliable transportation to make it easier and faster to get to the people you care about, is what's actually making you happier. Studies have also shown that what you do with family and friends matter too.
Freedom and control.
Having the freedom to be in control of your situation is essential to happiness. That includes managing your relationships so that you provide just enough help, and encourage plenty of independence. That's what makes the next happy factoid so surprising.
Are children the key to happiness?
Certainly, having children is what makes you happy. Except that data gathered from happiness surveys show a clear connection between the life stage of the family with children and the happiness level of the parents. Ask a busy parent how happy they are dealing with the problems that come up when raising children. They'll tell you, it can be frustrating and more. Contrary to popular belief, happiness greatly increases as each child leaves the nest.
Does more money make you happy?
Yes, money does buy happiness – up to a point. $75,000 annual income is the happy number for most families. Studies show, once earnings get past that number, there is no measurable increase in happiness.
Lend a helping hand.
When your social relationships include helping your friends and family, you receive a greater benefit. That's where things like money come in handy. Having enough disposal income to treat people well actually makes you happier. Happiness surveys provide a warning as well. In cases where people have too much money, problems arise with the expectations of family and friends to provide for them.
Importance of work in your happiness quotient.
Yet, where does career and job satisfaction figure in? Working gives you a sense of purpose. The results of happiness surveys are clear: You need to have work in your life to be happy. It doesn't necessarily have to be a big-time corporate career. Volunteer work, family care, and even work around the house gives you a sense of accomplishment that's essential to your well being.
Focus on You
What are some of the things you can do for yourself to be happier?
1. Get enough sleep. You only need to think about a crabby toddler past her naptime to realize how important sleep is to clear thinking and a good mood.
2. Sensible work commute. Working close to home, and having a schedule that makes sense for your lifestyle increases your happiness factor.
3. Smile. "Fake it till you make it" is rooted in science. Putting on a happy face inevitably brings about a cheerier disposition.
What's going on in there?
Chemicals count. There's mounting evidence that happiness doesn't depend strictly on external factors. What goes on inside your brain holds a key to happiness. There could be biological reasons you're not happy. If it seems like you should be happy and you're not, get a physical. There are safe and effective pharmacological solutions for treating anxiety and depression.
Diet and exercise
Wish it weren't so, but diet and exercise has a profound effect on your happiness. Once you get past the initial shock of switching to healthy foods and eliminating junk from your diet, your brain waves are stimulated and you are happier. Start your day with exercise, you'll have more energy and you experience a greater sense of self-pride.
What Makes You Happy? Kindness.
Being kind is so fundamental to happiness, it's a wonder that there is any cranky-pants still standing. When surveying people who routinely do acts of kindness, researchers found that being kind instantly brings on happy feelings. And best of all, the happiness achieved by being kind to other people is long lasting and easy to renew.
One more practical thing you can do right now.
Don't look at the big picture – think small. That's right; train yourself to focus on small slivers of happy moments. Stop reaching for the unattainable grand state of happiness and find satisfaction in a simple pleasure. And finally, there's one last thing to get you closer to happy.
Eventually finding happy.
What  makes you happy is gray hair. As you age, it's a natural phenomenon that you will be happier. Happiness scientists who study the science of happy have proof that the older you are, the wiser you become. You are more content with less. You understand what's really important. And many older people lower expectations because they are simply grateful to be around.
Meditation, prayer, praise and quiet reflection.
Every happiness survey considers the benefits of religion, faith, and spiritual practices. Meditation and prayer consistently rank as a major contributor to happiness. Happy people are more likely to have regular quiet times set aside for spirituality and so should you. In fact you can make soulful reflection a regular part of your daily routine. Join us. Prayables is a free online community for smart people like you who want to be happier. Join us and we'll give you something that matters. Massively important FREE stuff. No charge. No fees. No collection plate.
Join over 100K people who pray every day with Prayables. Get the Daily Blessings, our newsletter with prayers, articles, inspirational quotes & more!