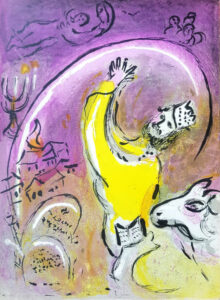 My girlfriends and I are reading 1 Kings.
The book begins with David passing the throne to his son Solomon. At the beginning of Solomon's reign, God appears to him in a dream and says, "What can I give you? Ask."
At this point, Solomon could have asked for anything. More riches. More land. More influence. There are so many external things he could have asked for and yet he asked for a heart of wisdom so he could lead God's people well.
We already know God granted this promise. The book of Proverbs– also referred to as the book of Wisdom– was written by Solomon.
The text explains: God gave Solomon wisdom– the deepest of understanding and the largest of hearts. There was nothing beyond him, nothing he couldn't handle. He created 3,000 proverbs, his songs added up to 1,005. People came from far and near to listen to Solomon's wisdom.
Though Solomon, like all the other kings, would have a downfall later in life, I marvel at this initial request he made to God.
When we ask things of God, it's easy to make those requests external. We ask for our material needs. We ask for outward miracles. The job. The money. The house. The healing. The family. The career.
I'll admit, these are the things I typically talk to God about first. I ask for what's all around me rather than asking for something the world won't readily see, things like patience, more kindness, joy, or peace.
I've been thinking about Solomon's request a lot lately as the New Year arrived. Solomon cultivated his inner world and it set him apart. The commentary from Eugene Peterson explains Solomon had an inner life that matched his rich, glorious outer life. I wonder if the same could be true for us. Will I get to the end of my life and be able to say I cultivated a rich inner world? Will you?
The inner life is the stuff people don't see at first glance.
The inner life doesn't belong on Instagram or TikTok.
The inner life is something you can easily talk about but it is that much harder to actually live out.
The inner life is what happens when the screens turn off and the noise stops. The inner life is something many people never bother to even build out because they're too busy making sure everything looks good to the outside world.
It's 2023. We're in a new year. And maybe this could be the year we build a rich inner world. Maybe this could be the year we cultivate fruits like patience and self-control. The year we release anger. The year we finally break that soul tie. The year we do the deep, inner, sacred work of figuring out what's left when the noise is stripped away. And if there's nothing there, may we build something enduring and lasting- brick by brick.
I know this seems like a tall order. Some of you just want to have your morning coffee and check a few emails. But friends, we're a culture obsessed with looks and appearances. It's no wonder why it's so easy to feel hollowed out. I can promise you, because I've done the work and I am continuing to do the work, that the cultivation of an inner world is every bit important, sacred, and the key to lasting fulfillment.
If these words resonate with you and you want to take it a step further, I wanted to offer two book recommendations to get started with.
The first book is called Ordering Your Private World by Gordan MacDonald. If you haven't read this book before, you're about to be blessed beyond measure. My copy is so worn and tattered because I pick it up every month. I might venture to say it's my favorite nonfiction book ever written.
The other book is called Secrets of the Secret Place. This is more of a book you read in pieces. A chapter here and a chapter there. It's the perfect devotional book since the chapters are so short but the concepts inside are rich and intricate.
I can't wait to see the fruit that comes from 2023 in your life and mine.