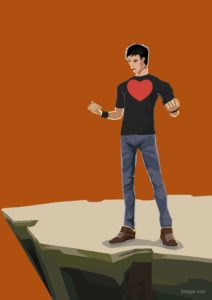 By Susan Diamond

Jackson has a secret. At fourteen years old, he has a secret so big, so important, that he can't share it with any one else. Not even his parents. Not a friend. Not a teacher. Not his pastor. Only he and God know about this secret, and of course it was God's idea in the first place.
Jackson has a superpower. Just like Superman and Wonder Woman, Jackson has his own superhuman ability.
But unlike the comic book characters you read about, or the superheroes you see in the movies, Jackson is for real. Nobody made him up. He's a real live teen-age boy who discovered his superpower one day in his fourth grade classroom when Ms. Bigg was being unreasonably harsh to his friend Michael.
It was 2:30 pm on a Friday afternoon. Michael has ADHD, he's hyper and has trouble sitting still, especially when there's only twenty minutes left until the final bell.
Ms. Bigg was cranky and very short on patience after the long week. No doubt, Michael was acting up and very annoying – but he was trying. He played with his fidget spinner, he tried tapping a pencil against his leg under the desk, and he even opened his anxiety app and did a few minutes of focus which usually worked. But not that day.
The teacher knew in her head that Michael needed special accomodations. But in her heart, she hated Michael. That day like many others, her heart led the way and she was downright mean to the young student.
After too many insults and one burst of temper directed squarely at the little boy, Jackson felt something like a switch turn on. The switch was in his chest, on the left side. It was a quick snap that brought on a brilliant light, so startling and so bright, that Jackson instantly shut his eyes to protect them.
Under his eyelids he could see something that looked like the screen of a heart monitor. It was Ms. Bigg's heart that Jackson could see. There was a pattern he was watching with eyes closed; zig zagged peaks growing higher and higher with every ticking second. It was clear Ms. Bigg was heading to an explosion of grand proportions.
Jackson's own heart reacted. Like a magnet, Jackson willed his heart to connect to the teacher's raging heart. There was an audible click and Jackson began to pray for calm. In a single second, Ms. Bigg's heart monitor took on a new pattern: soft wavy lines, pulsing peacefully. That was her inside. And her outside reflected what her heart was feeling too.
Ms. Biggs asked Michael's forgiveness for her outburst. She spoke soothingly to the boy and he too calmed down. Class continued in peace with smiles and understanding.
Wow. Jackson knew something important had happened there. He felt God work through him. He knew he was given a superpower to change hearts.
In the years to come, Jackson would hone his superpower for good and work closely with God to change hearts when needed. Though only fourteen years old as you read this story, young Jackson has already influenced local community leaders to be more compassionate to the less fortunate.
He even has his parents drive him down to the state capital where he regularly lobbies representatives, encouraging them to enact more just laws. Oh yes, he also does that special "heart thing" he did to Ms. Biggs back in the fourth grade to as many lawmakers as he can reach.
We can't wait to watch Jackson grow intellectually, spiritually and supernaturally. Oh the possibilities his influence could have on evil world leaders, terrorists, and the like!
What about you? If you were Jackson, how would you use your superpower to change hearts?
READ MORE Stories by Susan Diamond