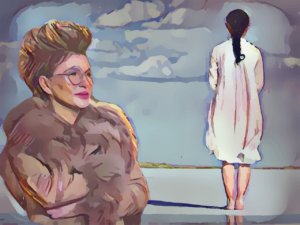 It was a love-hate relationship made difficult by the fact that she never loved me. I knew it all along of course. But it didn't stop me from loving my stepmother. God said to find it in your heart to love all His children, and I take that commandment very seriously.
When my Dad first introduced me to Arlene I could see right away she was a very needy soul. She clung to my Father like a child to her daddy. She didn't act like a grown woman in the usual ways. She was helpless, but that was OK because me and my Dad both like to be helpful. We like feeling needed.
Arlene has a highly developed skill; she can be exceedingly charming. She can turn it on and off at will. And when good Arlene is on, you love it. She makes you feel special and she is so much fun to be with.
Occasionally I was on the receiving end of Arlene's affection so I could see the attraction from my Dad's point of view. While others complained about her unreliability, her moodiness, her demanding nature – me and my Dad were able to excuse her for it. Arlene was like a drug, the highs you got from her attention seemed worth the lows you felt when she ignored you.
As alike as me and my Dad are in many ways, the root of our loving inclinations to Arlene were completely opposite. I came to love Arlene wholly from the Godly perspective I mentioned earlier. My Dad fell in love with only one part of her – the good Arlene who made him feel good…at first. But a love like that is hard to keep up with.
So after ten long years of marriage my Father had no love left for Arlene. She emptied his heart with unrelenting verbal abuse and rejection. Her neediness was no longer endearing. Her charm didn't work on him anymore. He was wounded and raw.
A good therapist helped him regain his self esteem and he knew he had to end the relationship. But Arlene wasn't giving up without a fight.
Being married suited her just fine – with or without her husband's love. She liked spending money but she didn't like working for it. She liked watching TV all day in her bedroom but wasn't particularly fond of the other activities husband and wife commonly did in the bedroom. She liked the respect she got from having a "Mrs." In front of her name because she had little self-respect on her own.
And that's why she wanted to stay married, regardless of the fact that her husband hated her.
I'll give it to Arlene, she is persistent. She would stop at nothing to hang on to the comfortable lifestyle of being taken care of. That's where I come in.
Throughout their ten-year marriage Arlene had little use for me. But when their marital problems started she needed me to help persuade my Father to give her another chance. She used me and I let her. I live to be useful to the needy and the poor. Arlene was both.
Poor Arlene. Divorce was not what she signed up for. It's a lot of work to get divorced and Arlene was lazy. Legal papers went unsigned, phone calls, emails and texts went unanswered. Divorce proceedings dragged on and on.
I was in the middle of it. Friend and foe to Arlene. Friend when I was able to squeeze a concession from my Dad that benefited her. Foe when I could not get her more money.
It was a three year battle and I was in the trenches. Naturally my allegiance was to my Father, but I often slipped behind enemy lines to listen to Arlene rant and rail against my Dad and the unfairness of it all. I do believe I gave her some comfort by letting her know she was heard.
My husband didn't like it at all. "Why are you wasting your time with that nutcase? She hates you."
I would explain, "Because that's the right thing to do. You don't kick a dog when it's down. You don't stop loving someone because someone else did."
The truth is, Arlene helped me more than I helped her. The common sense advice I would give her never sunk in. She thought circularly and the circle always came back to her original position – "What about ME?!!" I never could get through to her. But she got through to me.
Listening to her helped me grow spiritually. I came away from every twisted conversation with gratitude to God for the open mind I was blessed with. I prayed for Arlene with genuine intensity. I learned to "turn the other cheek" with grace.
Before Arlene, I thought everyone wanted to be a better person, everyone was striving to improve themselves, everyone had the ability to right their own wrongs.
After all these years with Arlene I understand human nature like never before. I get it that there are people who have an evil inclination so strong that it is beyond their power alone to beat it back. Without a moral compass you just don't stand a chance at being happy, or satisfied, or kind.
Arlene finally moved on. The case settled and the only ones who walked away with any money was the attorneys. It was a rude awakening for Arlene who pinned her hopes on a great big cash settlement plus a generous monthly income.
Arlene couldn't live on the maintenance she was awarded and she wouldn't work. She sponged off her relatives for awhile, she accumulated huge debt. When all that ran dry she did the next best thing, the necessary thing, the thing she really didn't want to do.
She turned her charm back on and looked for a new man to support her.
God was generous and had the messenger of love working overtime. Cupid's arrow flew and made a perfect landing. Arlene's next husband was well suited for her – he was a total jerk. Arlene was much more comfortable with the likes of him than with a nice guy like my Father.
I send Arlene a Christmas card every year to keep in touch. I still have hope that maybe one day the card is opened and Arlene sees my signature, "Love, Chrissy" and it dawns on her for a split second: She is loved.
Love covers a multitude of sins and it covers the sinner. May God bless Arlene and her husband and may they live together in holy harmony and everlasting love.
By Susan Diamond
READ MORE by this author