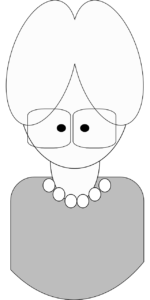 When you're old, a person can start to feel a little depressed. Sad and lonely. Not me. I am happy to be old, I never thought I'd live to ninety. But I am. I did. And I'm damn glad about it.
Pardon my language. I lost my filter a while back and I am not inclined to find it. I say what's on my mind, "politically" correct or not. Some say it's cute, my daughter Julie shushes me and looks embarrassed.
Just the other day me and Julie were in the Pancake House. We split the apple pancake. It's an elaborate baked concoction with more brown sugar than apples, baked in a frying pan and served that way. I love it.
The Pancake House is a people watching paradise. It's an endless show of ordinary people from all walks of life, people of all ages, people short and tall. Julie hates it when I say this but it's the truth; fat people are drawn to the Pancake House like flies to shit.
The conversation between me and Julie last Tuesday went like this:
Me: Did you see that woman? She's enormous!
Julie: Shush Mom, she can hear you.
Me: I'm only talking to you, what's it her business if I'm talking to you?
Can you see my point? You can't have an honest private conversation anymore without watching your words. I swear, people are overly sensitive.
I decided not to worry about what comes out of my mouth. It's enough to have to worry about what comes out my other end. Every G-damn day I have to worry about diarrhea, and peeing through this pull-up, even though I wear a pad with it.
I do worry about my three sons, Charlie, Lee and Alan. I don't worry about Julie, she's got her act together. I worry about two of my eleven grandchildren and five greats. The one I most worry about is the newest baby. She was born with a heart condition and the doctors can't fix it until she's a little older. I just adore that precious Cecilia, we call her CeCe.
There's an election coming up and it's is worrying me too. The country is headed in the wrong direction and I just may have to hop on my horse and ride over the border to Canada if things don't change.
Kidding aside, I speak the truth and people listen. Sometimes with a smirk, other times with an amused smile, and once in a while they listen and walk away surprised and impressed that an old lady still gets it.
When I met Salvatore that's what happened. He dismissed me at first. It was much later in the conversation when his scowl turned to an understated smile.
Young Salvatore is a thug who mugged me early yesterday evening when I went to the Dunkin Donuts to get myself a scoop of chocolate chip ice cream after my shows were over.
I was headed down Fourth at a brisk clip with my walker, when I was blocked by this short young man with a lovely face marred by the worst case of acne I've seen since the sixties. My first thought was to wonder why the hell he would walk around with a face like that when a dermatologist would clear him up in no time. I blame his parents.
Anyway. The young man who I would soon call Sal had his gym-shoed foot smack dab in front of the right wheel of my Cadillac – that's what I call my good walker with the four wheels. The crappy silver one with the tennis balls has no name and doesn't deserve one.
"May I help you?" I asked.
"Lady, I need you to give me your purse and I will walk away without hurting you."
"And you are?" I replied as politely as the situation required.
The question ticked him off and he responded wordlessly with a jab to my right side with something I could only presume was a weapon.
I wasn't the least bit frightened. I was cool as a cucumber.
"I'm asking your name. I am Marian Mayer"
I extended my hand. This was not my first "rodeo" as they say, I've been mugged before and scared out of my wits. But that was back when I had something to lose.
I let my hand hang out there and would not protract it as he answered.
"You senile old bitch, I'm robbing you. GIVE ME YOUR FUCKING PURSE!"
The reason he was asking and not taking is because I always keep my purse in the seat of my walker. He didn't know that.
I repeated. "Please, tell me your name first, we can talk about what you need and I'm happy to help."
That was when he began to realize I was serious about my demands and maybe I wasn't senile after all. This was not going the way he expected.
I guess he figured he might as well play this out. Apparently he was a curious fellow, a quality I very much admire. And I told him so.
"The name is Salvatore" he said.
I was delighted.
"Salvatore means savior. What a blessing to have such a name!"
He did finally receive my hand with a limp half-hearted acknowledgement that it was out there. I promptly raised the seat of the Caddy, took out my handbag, opened it and pulled out my change purse. I took my bills, found a five I needed for the ice cream, and gave him the rest of my wad. Including a Discover card. The credit card company will only allow so much shenanigans before canceling it anyway so let the boy have a small shopping spree.
It's not that I condone criminal behavior, but in the big picture, young Sal needed it more than Discover who has fraud built into their fees which we all pay for in the end.
Salvatore has his dignity, money and a charge card. I had enough for my treat, and we both made a much needed human connection.
We exchanged a few pleasantries and then both went on our way with a story to tell.
As I sat eating my scoop of chocolate chip ice cream I paused to say a prayer for young Salvatore. "Keep him safe Lord, and help him grow in to his name." I have no doubt that he will some day.
As for me, I thanked God for my life, the ice cream, and for sending my way, a good soul in need.
By Susan Diamond
READ MORE from Susan