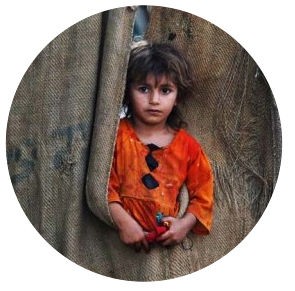 Tommy is my youngest. He's a marine deployed in Afghanistan. My boy is brave and strong and smart. He's also a complete softie. His heart overflows with compassion.
He sent me an email a few months back asking me to help him collect toys for the children in the town bordering the base. The kids come from poor families with plenty of love but scarce resources to spend on extras for the enjoyment of their young ones.
I put the word out on Facebook.
"We're collecting toys and sporting equipment for children living in a war zone. Drop off by the first of November."
The response was generous.
The toys reached Afghanistan a few months later. Tommy developed and executed a distribution plan for him and his buddies to deliver the gifts with military precision. As he was sorting out the soccer balls, dolls and games, he came upon a very special toy. It was a plush angel, with iridescent wings, a halo of golden lamé, and a flowy pastel rainbow dress. He put the angel aside. This was one toy he instinctively felt he should deliver personally.
The next day he saw Tamar, playing quietly by herself, on the side of the road. She was a tiny little thing with big brown eyes that shone brightly in stark contrast to the dull pallor of her sun-soaked skin.
After introducing himself and learning her name, Tommy said,
"Do you know anyone who could take good care of Angel?" He extended the doll to his little friend.
Tamar answered timidly but with a big gulp of excitement.
"I will take very good care of the dolly."
Tommy left Angel in the loving arms of Tamar, and he went back to the base.
The following month, Tommy was on a reconnaissance mission to assess insurgents' strength in the area. His convoy was traveling down a road when the lead truck abruptly stopped.
What was going on? Everyone knew it was extremely dangerous to stop a convoy, and they needed to keep moving. The lead driver reported a child in the middle of the road who could not be coaxed to move.
The commander barked out an order: "Go around the child."
The driver of the first truck did just that.
The second truck was the one Tommy was driving. As he approached the human roadblock, he saw a young small girl with big brown eyes sitting cross-legged right in the middle of the gravel road. She held a doll tightly in her spindly arms.  It was Tamar and her Angel.
Tommy radioed the commander and asked permission to leave his vehicle. He recognized the little girl holding up the procession, and he felt he could convince her to clear the way.
Permission granted.
Tommy knew the danger when he disembarked. Another Marine covered him with his rifle poised and ready to shoot if this was a trick.
Slow steps, one boot at a time.
Tamar smiled when she saw Tommy in front of her.
"Be careful." She whispered and pointed to her right.
Tommy saw the IED, inches away from where Tamar sat patiently.
If not for Tamar's protection, the explosive would have surely been detonated under the convoy's weight.
Tommy will tell you it was Tamar who saved the lives of the marines that day.
Tamar will tell you it was the Angel.
I'm here to tell you my son's simple gesture of kindness started a chain reaction of generosity.
Surely, it's all part of God's grand plan for the good people on Earth to build a circle of protection one selfless deed at a time.
By Susan Diamond
READ MORE by this author
– About this Story –
This is a work of fiction. I recently read a story by an unknown author with a similar theme: Brave men and women in the military, who risk their lives to protect our country, always in fear of danger. Tommy's Angel has a nice Godly twist and a message I feel compelled to share. We all work closely with God to achieve Divine protection.
 – Susan