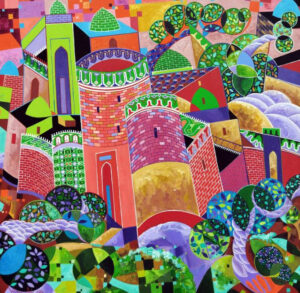 The wise man was walking back from prayers on the Sabbath in the holy city. He noticed a light on in one of the shops. The shopkeeper was busy serving his customers, exchanging goods for money, and conducting business as if it was just any day of the week.
The sage stood for some time observing the comings and goings. He thought deeply about what he was witnessing. Finally, he went home to rest, pray, study, and enjoy what remained of the holy Sabbath.
The day after the Sabbath the wise man went back to the same street, found the shop where he was the day before, and entered the store.
The shopkeeper lifted his head from his accounting books and saw the renowned sage.
"Reverent teacher." He said. "Welcome to my humble shop. Can I help you in any way?"
The wise man answered.
"I noticed your shop yesterday as I walked back from the holy sanctuary as the Sabbath was near its completion. I stood for some time watching the many people you served with patience and dignity. I said to myself 'What a challenge it must be for such a respectable gentleman to give up his Sabbath rest to accommodate his customers.'
If you were to close your shop for the Sabbath, it could be a tremendous financial loss for you. You could possibly lose the loyalty of your regular clientele. Who knows what could happen to this fine business you've built if you closed it for the Sabbath."
The shopkeeper was moved to tears.
"Yes. Oh, wise one. You understand. Many pious people have shown up at my shop to degrade me, shame me, and demand that I do what is proper and close my store on the Sabbath.
But you are the only person who has taken the time and thought to live in my shoes. Instead of judging me, you understand the struggle and sacrifice it would take to keep the Sabbath holy. To receive my God-given rest."
With that, the shopkeeper declared: "Next Sabbath and for all that follows, I will obey the commandment to rest on the Sabbath. I believe God will provide."
The wise man nodded his head and gave the shopkeeper a blessing by his example.
He left the store in peace. And both men knew the truth behind persuasion: To help someone understand, they must first feel understood.
By Susan Diamond
read more by this author