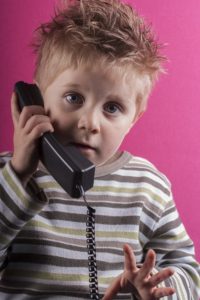 A little boy answered the ringing phone. A woman faintly heard a voice say hello. It sounded like a young child.
"Is your mommy or daddy home?" she asked.
"Yes," whispered the small voice.
"May I talk with one of them?"
The child whispered, "No."
Surprised, the woman asked the little boy, "What is your name?"
"Timmy." he replied.
Wanting to talk to an adult, the woman said, "Timmy, is anyone else there with you that I could talk to?"
"Yes."
"May I talk with them?"
Again, the small voice whispered, "No."
Curious and a bit concerned the woman asked, "Who else is at home with you?"
The child whispered softly, "a policeman."
Becoming alarmed the woman asked, "May I speak with the policeman?"
"No, he's busy", whispered the child.
"Busy doing what?"
"Talking to Daddy and Mommy and the Fireman", came the whispered answer.
Growing quite worried, she then heard what sounded like a helicopter through the earpiece on the phone and asked, "What is that
noise?"
"A hello-copper" answered the whispering voice.
"What is going on there?" asked the woman, now fully alarmed.
In an awed whispering voice, the child answered, "The search team just landed the hello-copper."
Shocked the woman asked, "What are they searching for?"
Still whispering, the young voice replied along with a muffled giggle…"ME!"
The moral of the story is: You may be tempted to hide from the people in your life, but you'll only delay the inevitable. Pull on your big boy pants, and face your problems. After all, you can't hide from an all-knowing, all-seeing God who wants to help you. Show your face. Be open. Be happy.